Elwira Niedzwiecka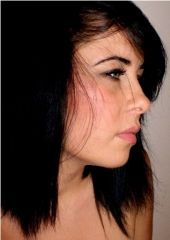 Elwira Niedzwiecka
Email:

elwira DOT n AT gmail DOT com

Location:
About:

Hello,

I have 2.5 years of graphic design experience. During that time Ive gained plenty of knowledge and experience in graphic design. My favorite software which i work with is Photoshop. I also know use software such as: Illustrator (basic), Dreamweaver (basic), Flash (basic), Lightroom (good), InDesign (basic), HTML, word, exel, power point. I'm learning new things all the time new, design is my passion!

THINK, ACT, INVENT is my design process witch motives me to think and create a great ideas. I have a lot of experience in print and digital having worked on brochures, leaflets, flyers, posters, magazine adverts, paper ads and web projects.
I'm a good team player, love experimenting with ideas and acquiring new techniques, can take direction and input from others, but have the ability to push conventional boundaries, which helps me deliver work that I and my clients are proud of.

Skills:

Adobe: Photoshop, Illustrator, Dreamweaver, Adobe Flash (basic), Lightroom, InDesign (basic), Word, PowerPoint, HTML